Events & Tickets
Michigan Stars Series
Local artists you need to know!
This series has already started. Only individual show tickets are available at this time.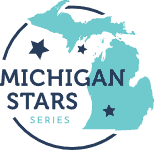 You shop local. You eat local. You drink Michigan craft beers. But do you listen to Michigan music? Our new Michigan Stars Series brings you the Michigan artists you need to know—from new innovators to established legends. Get three shows on one convenient ticket and save!
Franke Center For the Arts